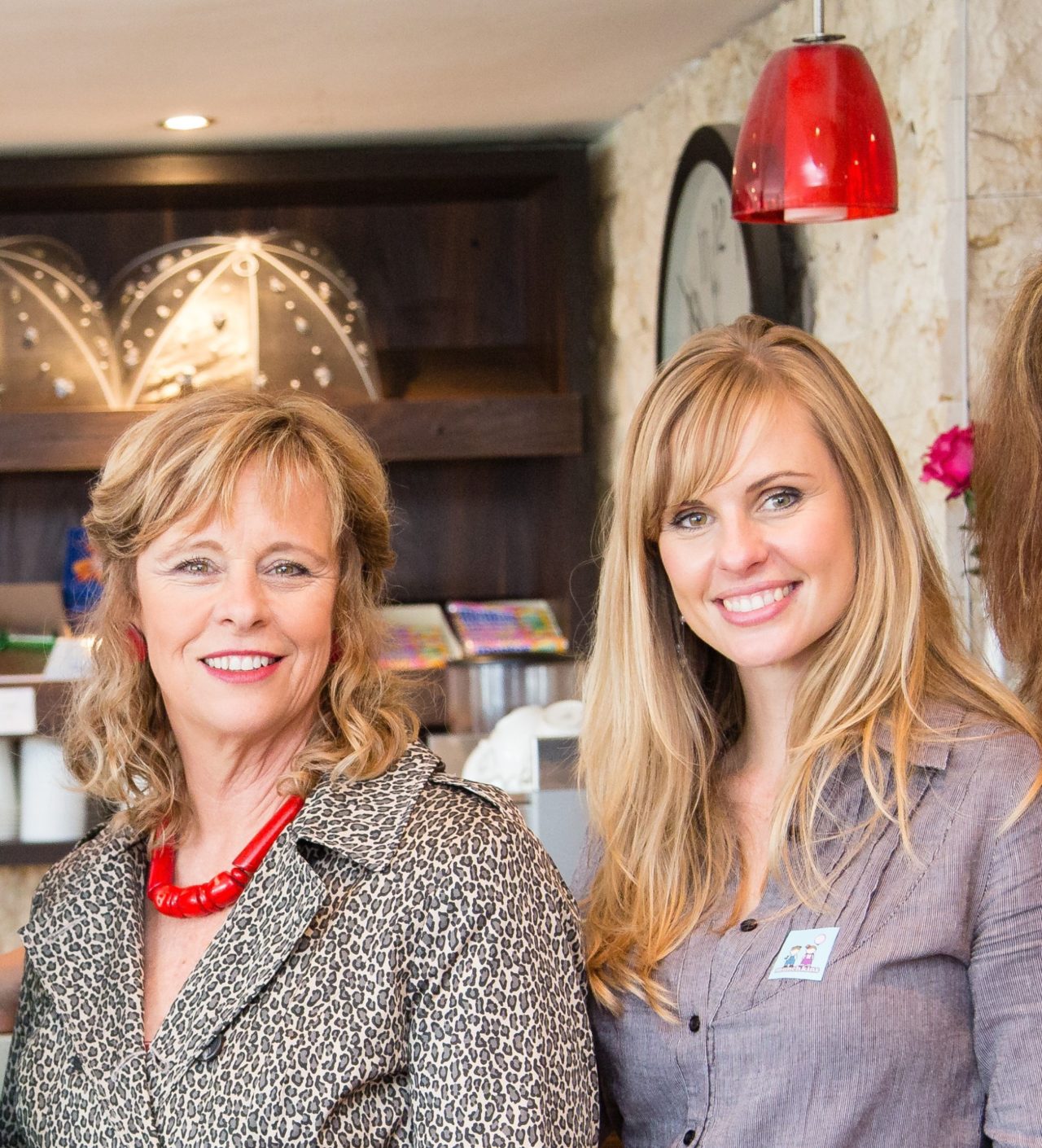 We recently had the privilege to find a (very tight) spot in Celeste Rushby's diary.
Celeste dons quite a couple of hats and can keep more balls in the air than a professional juggler. She is a wife, mom to three toddlers, a Munchkins Parenting Coach and an Occupational Therapist by profession.
We hope you enjoy reading her very insightful, yet authentic answers to some of the pressing challenges that most of us face at some stage or another during our parenting journeys. She has a heart for and a wealth of knowledge about premmies, knows firsthand about the pressures parenting puts on a marriage, and would even like you to learn from some of her own mistakes!
So, without further adieu, let's get to know Celeste a bit better.
You have three beautiful children (one singleton born at 32 weeks and twins born at 30 weeks). Tell us a bit about your parenting journey, and elaborate a bit on the ups and downs of parenting three premmies?
The first time around, the early arrival of my little girl was a shock with no warning signs to prepare us. The twin pregnancy, however, was horrific, and it was a miracle we made it to 30 weeks. I found the first time around very traumatic and isolating. I knew very little about the premmie world and didn't know anyone that had been through it before – which is what inspired me to help future parents of newborn prems to feel informed and supported in their journey. Siana was my inspiration to start a support group for Moms of Prems and High-Risk Pregnancies, and to specialise my OT practice for premature babies. I also did specialised training in the care of newborn prems to greatly reduce both short- and long-term complications. Unfortunately I had to give up my practice and support group when I was forced into strict horizontal bed rest during my twin pregnancy.
This can be rather challenging when you have a 2-year old toddler at home that is used to her playful, energetic, creative mother being available to play with her most of the time after school. It was difficult to make her understand what was happening to mommy – why mommy was in so much pain all the time, and couldn't even sit up to play with play dough. I didn't want her to think that it was her new brother and sister that were hurting me. It is very difficult to explain these things to a 2-year old.
Having twins born at 30 weeks comes with its own long list of challenges. In NICU we had all sorts of complications to deal with – severe apnoea, not being able to keep a drop of milk down, severe reflux, a brain bleed, 2 heart conditions, etc, etc. And then, once they were home, they were in a lot of pain and discomfort from their little immature guts trying to do something they just weren't ready to do – digest! So there was a lot of crying, a lot of vomiting, very little sleep, and very little time for my eldest daughter, my husband or myself. It was a VERY challenging season – by far the most challenging of my life. But I know without a doubt that this season had purpose. I can completely empathise with other parents of very colicky/refluxy babies – whether prem or not. I know what it feels like to be sucked into a dark hole with no energy to try to fight your way back out. I've been there. I've felt it. I conquered it. And now I'm loving life again and I feel privileged to have been chosen to be the mother of my 3 precious miracles babies.
You've had the privilege of parenting a singleton and twins. How is raising twins different to raising singletons and what would your advice be to other moms (and dads) with having three children so close together? 
For the first 2 years, twins are a completely different ball game to singletons. Singletons are obviously easier because of the dynamics involved and being able to spend more precious alone time with them. Twins are a lot more challenging (especially for the first 6 – 12 months), but there is something so special about twins – an inexplicable, incomprehensible connection between them – that is just so precious to witness. It's not a normal sibling bond, it's something just a little deeper.
The best advice I could give parents that have 3 kids so close together:
Don't lose your sense of humour! Laugh through the madness and move on. That is the only way you can keep your sanity (and your marriage).
Humble yourself to ask for help and to delegate – even if it's not done the way that you would have done it (that was a hard lesson for me)!
Communicate with your spouse! While I was pregnant with the twins, my husband and I discussed that we would make a pact: we agreed to put our relationship in the freezer until their first birthday. Survival mode, no hard feelings, empathy and trying to help each other keep a sense of humour through it all. Then, when they turned 1 year old, we could go on a date night to formulate a written plan on how to defrost our relationship again. It doesn't just fall back into place! It takes planning, hard work, diligence and dedication. And man, it is so worth it!
What are some of the parenting mistakes you made, that you would like others to learn from?
Before my first child was born, I assumed I would have all the answers. And that if I didn't, I would know exactly where to find them! I was a Paediatric Occupational Therapist, had Super Granny as a mother, Sally-Ann Creed on speed-dial, and incredible medical resources. Surely this should be a breeze! Ha ha! Isn't it funny how life has a way of pulling the rug out from under your feet just when you start feeling a little too confident in something?
My expectations of a perfect pregnancy, a beautifully natural, drug-free birth, bringing home a perfectly plump Ann Geddes type baby who slept beautifully, fed beautifully, and had no sensory issues at all… well now. Was I in for quite a surprise!
I think many of us parents tend to have unrealistic expectations – of ourselves, our children and our spouses! If babies were born with manuals, the manuals would be bigger than the babies! Imagine how many stretch marks you'd have then (and don't get me started on twins)! It's important to be kind to yourself, admit when you make a mistake, learn from it, laugh about it and move on. Embrace your seasons of challenge, knowing that it is just that – a season – and that it's an opportunity to learn something truly valuable. Take care of yourself! Don't feel guilty when you schedule in some me-time. You're the only mother your children have got.
If you really love your children, you need to take good care of their mother.
What are your favourite ups and less favourite downs when it comes to the daily tasks that go with being a part-time working mom to three small children?
I love the fact that my children are still young enough to make a game out of most otherwise-mundane daily tasks. Getting up in the morning is a game, getting dressed is a game, brushing teeth is a game, etc. We have theme songs for most of our daily tasks, and if not, we make one up at the moment and have a good laugh about it. Sure, we don't live in Oz, so we do have our occasional "getting up on the wrong side of the bed" days, but usually a giant bear hug, a zerbert on the belly or an upside down dangling gets them back on track. And if it's a boundary-testing issue, well, I'm blessed with the tools to realign those as well.
Although I am blessed to only work part-time, I do find it hard to leave my children behind if I have an afternoon appointment. But in my opinion, "guilt" should be a word that is part of the description of "motherhood" in the Oxford Dictionary. No matter what you do, every mother feels guilty about something. Funny, but so true.
How has being an Occupational Therapist influenced your parenting style and techniques? 
My house is a jungle gym – both inside and out! I have absolutely no issues with my children climbing on my couches (shoes off), up the burglar bars, jumping off their kiddie's tables and making obstacle courses with my couch cushions on the floor. My boundaries lie with no standing on the kitchen table or dining room table (for hygiene reasons) and my children respect that. But it is so incredibly important for our children to be physically active! Bumps and bruises heal within a few days. But learning difficulties and sensory issues from being molly-coddled takes months or years of therapy (and a whole lot of money that you could rather use to buy a trampoline and a jungle gym)!
Being an OT has also enabled me to help many parents with children that struggle with behavioural issues related to ADD/ADHD, etc. And my specialised training (and experience) in premature infants has been an asset in my line of work as well.
What about being a Munchkins Parenting Coach excites you? Where does your passion for helping others on the parenting journey stem from?
I love my job because I love to see how the families absolutely blossom when they implement the tools that Munchkins provides. It's so beautiful to see parents really enjoying their children again, and to see the children not only respecting adults again, but also becoming so happy and confident with the new family dynamics.
Obviously listening to my mom's (Andalene Salvesen, a.k.a. Super Granny) stories about the home visits she did, was a huge inspiration for me. But I've always had a love for making butterflies out of caterpillars. My mom's incredible wisdom and experience just fuelled the spark even more.
What was it like growing up in Super Granny's home?
I am often asked this question. You know, my mother wasn't Super Granny when I was a child.  She made mistakes like we all do. But she had this incredible thirst for knowledge, the humility to admit when she was wrong and needed to try something new, and the creativity to find that something new that worked the next time. She was calmly firm when we crossed the line, used creative discipline techniques, and was always approachable and easy to talk too. Today she is one of my best friends.
Which topics do you like most to cover at your talks or home visits, and why?
No matter the age and stage of your child, I believe that (from 10 months+) the most important thing to keep in mind when raising your child is the scale – the scale that needs to be balanced at all times. On the one side of the scale, your children need clear, firm, consistent boundaries. They need to be able to predict exactly where the line is drawn, and what the consequence will be if the line is crossed. On the other side of the scale, your children need to have a full love tank. They need to feel adored, regardless of their behaviour – unconditional love! They need to feel like you love being around them and care about what they find important – even if it seems a bit feeble to you as an adult. If you have this scale balanced, you will have happy, obedient children. If that scale is tipped either way (or broken, for that matter), your child will have behavioural issues.
Munchkins Parenting Talks, Coaching and Home Visits
Email Celeste, for more information on hosting a Munchkins Parenting Talk, or to arrange her for a Parent Coaching Session.
Our Parent Coaching Sessions are highly recommended and include various options, such as a Home Visits, a Coffee Consult or Virtual Home Visits (consults via Skype).
You can also visit the Munchkins website to read more about Celeste and our other qualified Parenting Coaches.
Share This Story, Choose Your Platform!