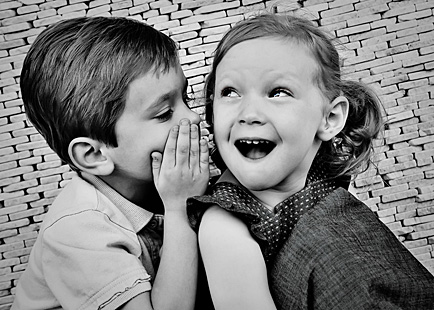 "Love is all you need" may not be too far from the truth when it gets to what children require to grow up soundly (obviously within a healthy environment, together with firm discipline). However, the type of love that each child needs differs from individual to individual and, as a parent, it is important to speak the love language that will resonate most with your child's primary love language.
Gary Chapman's popular book, The Five Love Languages, outlines the five different ways in which people experience love. Understanding these "languages" is important to fulfil your loved ones' unique love needs. Here follows a short summary of each love language and a hint on how to make Valentine's Day (or any other given day!) special for each person according to their preferred language.
Gifts
Some children feel loved when you give them something – a present; a note in their lunch box; a flower on their pillow. It does not need to be something big and expensive, but regular small tokens will go a long way. You could even try to wrap up necessities you would have bought for them anyway (like clothes or body lotion) and "sneakily" present it as gifts.
Make your Valentine valuable: Wrap up a small gift and give it to your child when she wakes up or comes home from school.
We also saw this amazing, yet simple Valentine Heart Attack idea from Skip to my Lou, which you can try for your child leading up to Valentine's Day (this is also a great one for the child who's primary love language is words of affirmation):
Acts of Service
When you do small favours for certain people, it makes them feel loved. This could entail doing some task for them which they had to do themselves or simply a small act of kindness – like making a cup of tea or cleaning a favourite toy for them.
Make Valentine's valuable: Do one chore on behalf of your child (like making his bed) and tell him you are doing it for him on that day to show your love.
Physical Touch
Some children crave loving touch! They need to be kissed, cuddled and caressed to feel loved. They are those little ones who are forever lying on top of you, wanting to wrestle, be tickled or stroked.
Make Valentine's valuable: Give your munchkin a backrub or massage.
Quality Time
For other children, spending undivided time with them will fill their tanks right up. You will need to put away your phone and other distractions and exclusively focus on them. It could involve doing activities together or merely chatting. Sometimes, these are the kids that enjoy running errands with you simply for those times you have in the car.
Make Valentine's valuable: Go on a special outing together, like a milkshake- or a play park date.
Also check out this very simple, yet effective idea from Crate your Phone to make sure your electronic devices do not steal quality time with your family.
Words of Affirmation
Lastly, some individuals need to hear love. These are children that need to be told that you love, appreciate and are proud of them. Your affectionate words will light up their faces and fill their hearts.
Make Valentine's valuable: Record a video of you telling your child what you love about her and choose a special moment to play it to her.
Loving "better"
Loving your child on purpose means that you will need to understand her unique love needs and show your love accordingly. If your own most natural love language does not correlate with your child's, it will probably require quite a bit of effort from your side to "speak his language". That is when you need to remember that love – of the right kind – is even more important than the food and education you could give him.
However, although your child will probably show greater preference for one or two of these love languages, you should not neglect the others altogether. For example, do not think that you can bribe a "gifts" child to be happy without having to spend quality time with him, and do not think that a "physical touch" child never needs to hear that you love him.
Perhaps the "season of love" we are entering, with all its red hearts and cupids, is a good time to make a special attempt to fill your munchkins' love tanks the way they like it. We know you love them to bits – make sure they know it too!
You can take the quiz on Gary Chapman's website for The 5 Love Languages to discover what you and your child's primary love languages are. Just visit https://5lovelanguages.com/ – then select the purple button that says ''Discover your Love Language'' and follow the prompts from there!
Munchkins
Book one of our coaches for your fundraiser event to talk on any one, or a combination of parenting talk topics. Our coaches are excellent speakers, with relevant, interactive and to the point advice, so don't miss out! Currently available in Cape Town, Johannesburg and the Eastern Cape (per request).
One of our most popular parenting talk topics is about discovering the different temperaments that live under one roof and how these temperaments effect relationships:
Share This Story, Choose Your Platform!