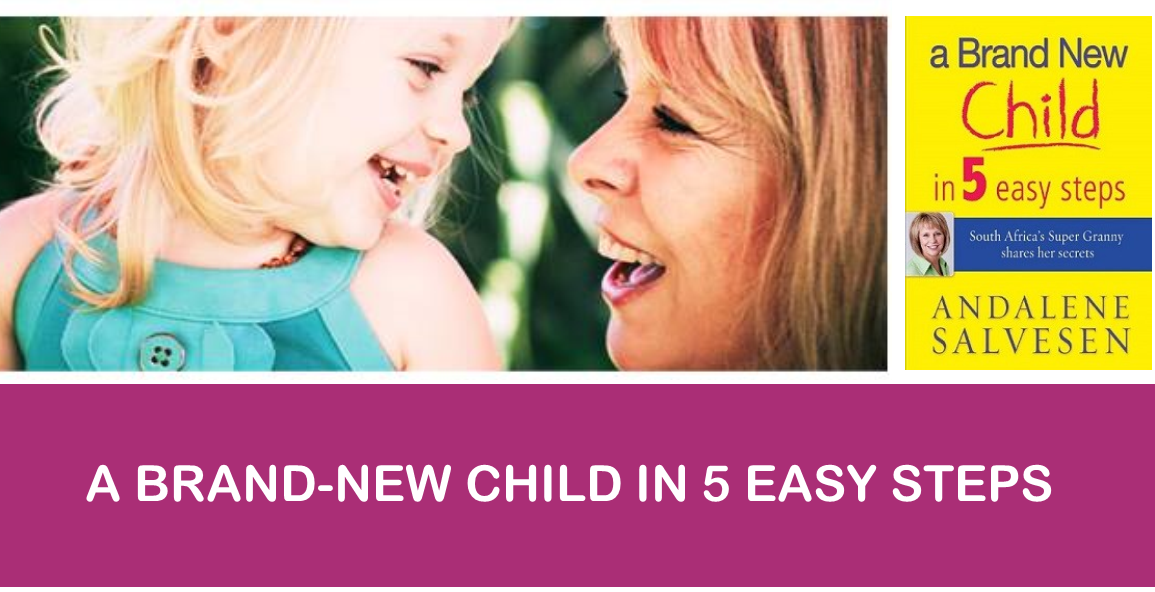 Book: A Brand-New Child in 5 Easy Steps
South Africa's Super Granny shares her parenting secrets
Parenting book by South Africa's own Super Granny, Andalene Salvesen, an international parenting coach and speaker with more than 20 years' practical experience.
The book, A Brand-New Child in 5 Easy Steps, is inspired by the amazing child-transforming results which Salvesen has gained from her home visits to families all around the world and shows that children's behaviour will only change when parents become empowered.
Children are not born with boundaries and parents are often ill-equipped to enforce appropriate (and loving) house rules. A Brand-New Child in 5 Easy Steps will help parents to regain their authority so that children can once again just be children. – Andalene Salvesen
The book guides parents to choose creative ideas for discipline thereby eliminating today's epidemic of shouting and guilt-based parenting.
Salvesen covers all the childhood phases, from tots to teens, dealing with appropriate consequences for anything from tantrums to silent defiance.
Her five easy steps will empower every parent to achieve the desired results with their children.
Parents will easily relate to Salvesen's descriptions of her home visits – often humorous, sometimes emotional – and the problems she encounters in different homes.
Parenting can be an exciting journey, and A Brand-New Child in 5 Easy Steps is an excellent start to move families into a healthier, happier and more empowered direction. Anyone that is struggling with their children and wants to be a better parent will gain from going through the five steps in this book.
R175 (South Africa) / 100 dir (Dubai) / $20 (USA) excluding posting and packaging
If you are interested in purchasing this book please contact: info@munchkins.me or 082 875 4818
Share This Story, Choose Your Platform!