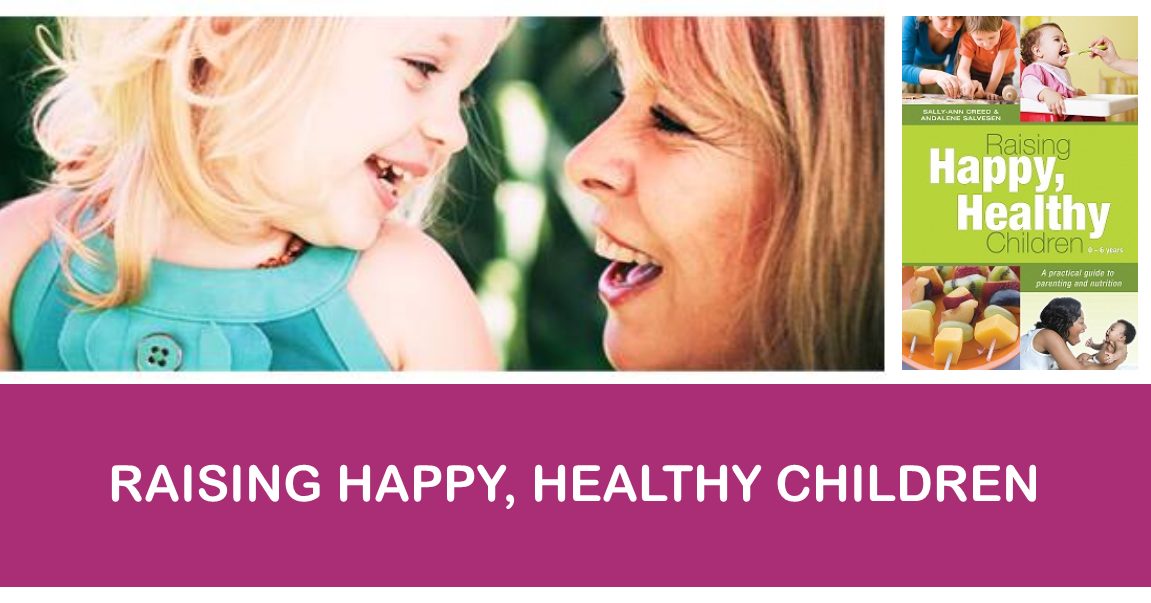 Book: Raising Happy, Healthy Children
Raising children today can be a daunting task – the responsibility is enormous; the challenge is one few parents are ready for, and knowing the right thing to do is often learned by trial and error, rather than having someone take us through the steps to empowered parenting.
In Raising Happy, Healthy Children, Sally-Ann Creed and Andalene Salvesen bring together two of the most important aspects of raising a healthy child – discipline and a healthy diet – by implementing suggestions which have been proven in practice for many years, you may find your task easier in a multitude of ways.
This book is designed to be a quick-reference, practical guide for common discipline and diet dilemmas.
It takes you through the stages from pregnancy to 6 years covering topics like:
• How to deal with tantrums effectively
• How diet affects behaviour
• Eating and sleeping problems
• Understanding different temperaments
• Healthy lunchbox ideas
Childhood is a time for being carefree, healthy and happy. Read Raising Happy, Healthy Children and learn how to raise children who are emotionally and physically healthy.
About the authors
Sally-Ann Creed is a qualified Clinical Nutritionist in private practice, and author of Let Food Be Your Medicine. She serves on the board of experts of the South African Journal of Natural Medicine and has been a regular contributor to this magazine for several years. She has also been the health Writer for Christian Living Today since 2004.  Sally-Ann was named SA's Most Influential Woman in Business and Government 2009/2010 for her contribution to health.
Andalene Salvesen is a professional parenting coach, mother of four and grandmother of ten. She conducted mother and toddler classes for 12 years and was the owner and principal of a nursery school for eight years. She has presented her own parenting seminars internationally for the past 20 years and transforms family dynamics by empowering parents, teachers and au pairs by inspiring them with creative tools for raising happy, healthy children.
R175 (South Africa) / 100 dir (Dubai) / $20 (USA) excluding posting and packaging
If you are interested in purchasing this book please contact: info@munchkins.me or 082 875 4818
Share This Story, Choose Your Platform!