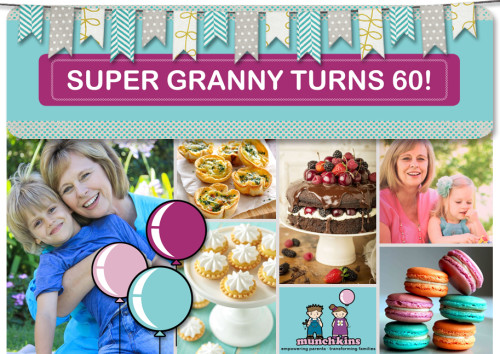 In light of Andalene's upcoming 60th birthday, we asked her to reminisce a bit about the Munchkins journey to date and what the future holds:
What have been the highlights of the past 5 years?
"On a personal note, definitely having another 3 grandchildren added to the existing 6! And on the business side, it must be the journey of evolving the brand from Monsters to Munchkins to Munchkins with its new look and fresh inspiration."
What do you still want to do in the next 5 years?
"It is still my absolute passion and driving force to empower as many families globally as possible, and to train up and equip coaches so that I may hand over the baton, when necessary ."
What part of your job do you enjoy most?
"Seeing the happy and appreciative families that once again have hope at the end of a talk or a home visit is a deeply gratifying experience. To me, it's not a job, it's my purpose in life."
What has the market's response been to your book, A Brand new Child in 5 Easy Steps?
"After reading my 1st book (Raising Happy, Healthy Children) most families were very excited to have a follow on for the next stages."
How do you approach the strangers you meet during a home visit?
"Within minutes it feels like we have known ea other for ages – they are desperate to make changes and I am desperate to help, so it makes for a good combination."
Why do you want people to join you in celebrating your upcoming 60th birthday?
"I am excited about turning 60! What a privilege to be healthy and a grandmother of 9! I want the world to share in my excitement and gratitude."
What does family and friends mean to you?
"What is the point of living without that? Money doesn't bring you happiness, relationships do."
Share This Story, Choose Your Platform!