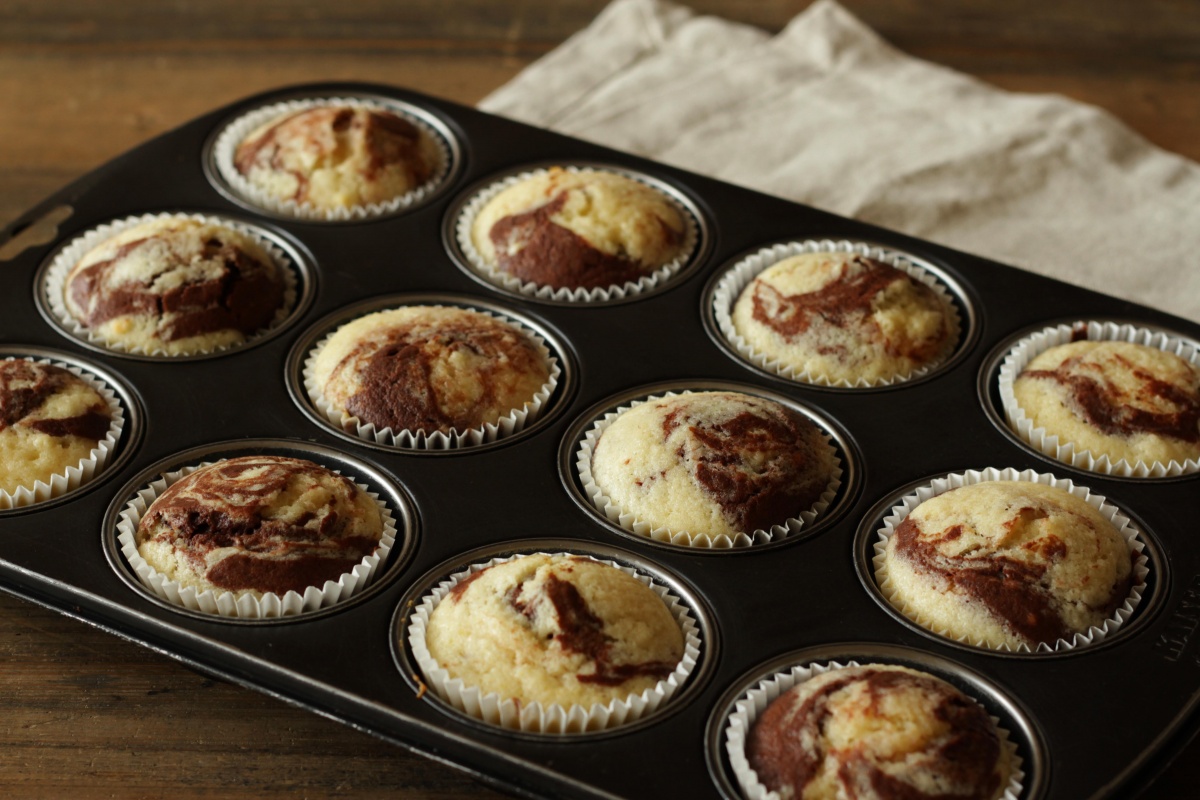 Ingredients 
½ cup (50 grams) cocoa powder
1 cup (240 ml) boiling hot water
90grams coconut flour
90grams almond flour
2 teaspoons baking powder
½ teaspoon salt
½ cup (113 grams) unsalted butter, room temperature
1 cup or 200 grams of xylitol
2 large eggs
2 teaspoons pure vanilla extract
Method
Preheat oven to 190 degrees. Lightly butter, or line 16 muffin cups with paper liners.
In a deep bowl, whisk together the flour, baking powder, and salt.
Then in the bowl of your electric mixer, or with a hand mixer, cream the butter and xylitol until light and fluffy. Add the eggs, one at a time, beating until smooth. Beat in the vanilla extract. Add hot water and then add the flour mixture and beat only until incorporated.
Separate your mixture into two bowls.
Add cocoa powder to one bowl and mix for a further few seconds until all mixed in.
Fill each muffin cup two-thirds full with one spoon if each batter and use a knife to cut a figure of 8 throughout the centre to combine it but not mix the colonies. Bake for about 20 minutes or until risen, springy to the touch, and a toothpick inserted into a cupcake comes out clean. Remove from oven and place on a wire rack to cool.
Cream cheese icing 
250g full fat cream cheese either Philadelphia or Woolworth is best.
2 heaped tablespoons of cocoa powder.
3ml of vanilla essence
1 drop of almond essence (optional)
2ml of xylitol/stevia liquid
Blend cream cheese, vanilla and almond essence and stevia until smooth. Desperate into two bowls. Add cocoa to second bowl and blend further.
Pipe or spread two colors and decorate.
Share This Story, Choose Your Platform!